YourDay at Alton Towers
This project has been assigned the following categories: Marketing campaigns, / Social media, / Websites, / Brand development,
Client overview
YourDay was a personalised DVD souvenir that combined personal footage of guests in the park and on the rides with stock footage to provide a professionally produced movie. This was a new concept when launched in 2007, so the brief was more than telling people about YourDay as a brand.

Project overview
YourDay at Alton Towers asked Scaramanga to develop the brand and launch marketing plan and then manage the implementation of all marketing activity for YourDay, which operated as a virtual team and had no marketing resource. First we had to educate consumers on the product itself before we could start thinking about encouraging them to buy.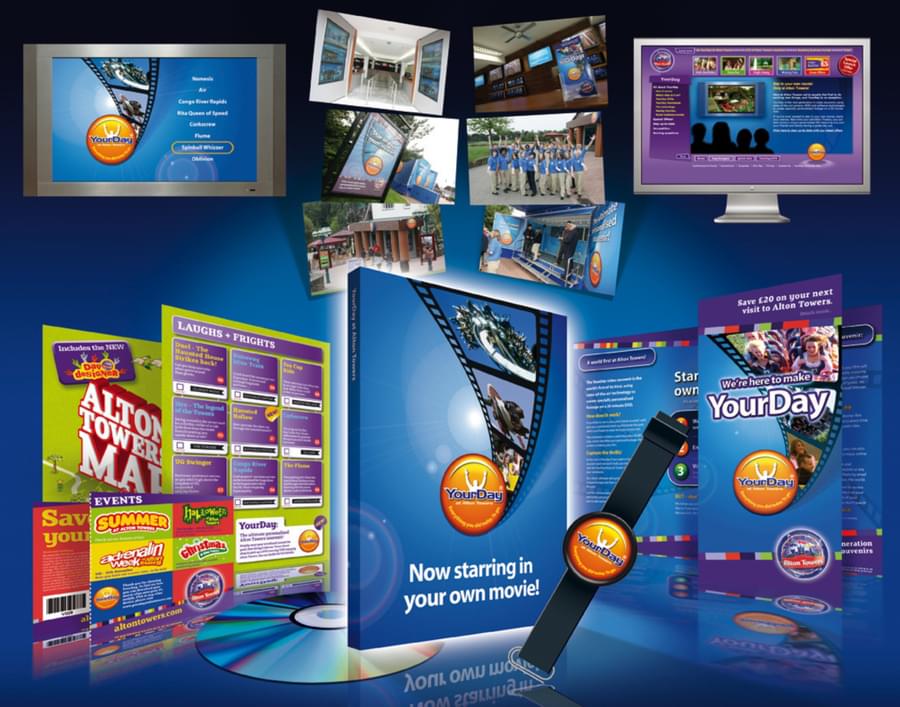 Our approach
Our research and experience showed us that we had to undertake the education/awareness raising before the visitor arrived at the Alton Towers Resort.
On a busy day, after a long drive, all guests want to do is rush through the entrance gate and get onto rides. YourDay has to stop guests to offer them an RFID wristband on arrival at the entrance gate, otherwise there is no product created, and therefore no potential sale.
YourDay did not have the budget for the mass media advertising which would have been the fast route to raising awareness pre-visit. Our primary routes were through web based activity, social networking, email capture and marketing, as well as consumer PR. This was then supported by on park presence at the arrival through literature, signage, video screens showing the end product and a fantastic retail environment. We regularly ran sales promotions and special offers.
Testimonials
Scaramanga provided a complete marketing service for YourDay, from our brand and marketing strategy, through to implementation across a whole range of media to get a great level of awareness among Alton Towers visitors. Claire is wonderful to work with and is a valued member of the team. I wholeheartedly recommend her.

Al Page President & CEO, YourDay Inc
Scaramanga was responsible for everything for YourDay's marketing – all brand development (working with a creative agency), market positioning, pricing, promotions, collateral and signage development, website, email, social networking, retail environment, retail staff training, PR (working with a consumer PR specialist), as well as working with the Alton Towers Resort marketing team on joint promotions and publicity.
Scaramanga also managed the corporate marketing of YourDay to other theme parks, including trade PR and advertising and attendance at the theme parks expo, where YourDay won the IAAPA Technology Award.
Results
YourDay was very popular with guests and demonstrated that this complex technology works.

At the IAAPA industry expo in Orlanda, the level of interest from other theme parks was extremely high and YourDay won the Technology Award.
Like what you see?
Book a meeting with our experts and let's find out how we can help you.
You may also like
Southwark Music website
MyT identity and marketing campaign
Southend Borough Council