The Sheriffs Office website and brand
This project has been assigned the following categories: Websites, / Brand development,
Email marketing integration
Client overview
The Sheriffs Office are the experts in debt recovery and enforcement services across England and Wales.

Visit site
Project overview
Since 2009, we have evolved their branding to increase profile and visibility amongst their target market. We have also been commissioned to design and build - and then refresh - the website to help increase The Sheriffs Office's profile.

The Sheriffs Office website, like many, provides our client a platform to share information about their services. Additionally, it is also used as a primary resource for the content marketing strategy with over 750 articles on the website — helping forge The Sheriffs Office's reputation as thought leaders in their sector.
However, the main area where The Sheriffs Office website differs to most websites are the numerous forms on the website that allows members of the pubic and solicitors alike to instruct The Sheriffs Office website.

There is a form for each of the different type of enforcement they undertake, be that a money judgment, the recovery of property or an unpaid employment tribunal award.
In addition to instructions, the website is an essential resource for generating leads by people downloading the numerous eBooks that the Scaramanga team has written and produced for The Sheriffs Office. These forms are integrated into their email marketing software to automate delivery and instantly alert the business development team of a new lead.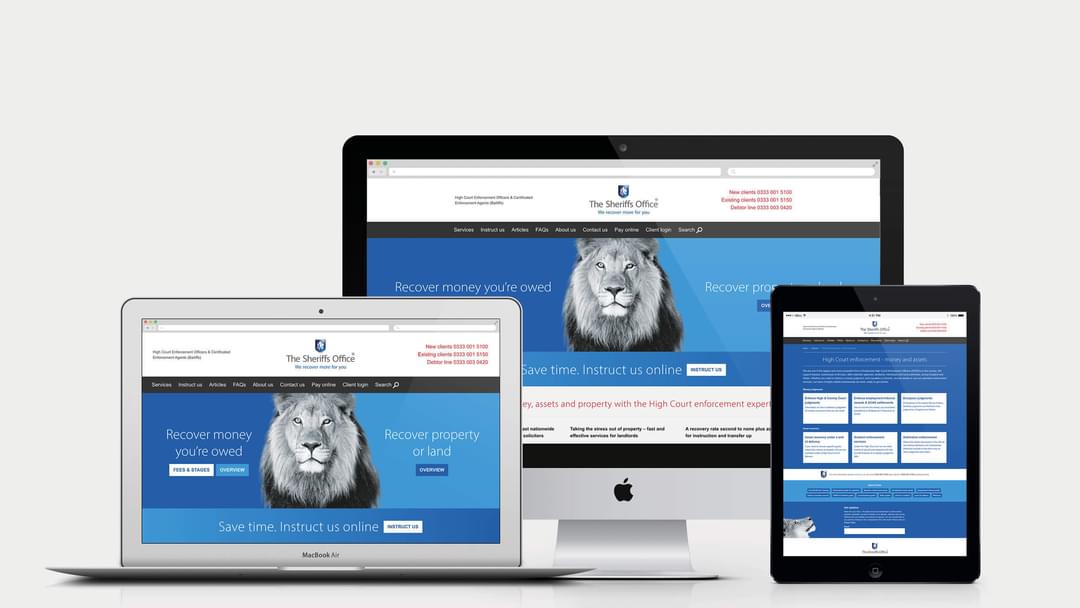 Marketing collateral
As part of our marketing strategy (see related projects below for more details), we have created a full suite of marketing literature, exhibition material, email marketing and social media graphics and campaigns to support the strong and consistent delivery of the brand.

Testimonials
I have worked with Scaramanga for the last twelve months and have been blown away by the level of care and attention to detail that they provide along with their constant support. If you are looking for a marketing team that can bring new ideas across multiple channels and the know-how to implement then these these are the guys for you.

Ewan Chesterton Marketing Manager (former), The Sheriffs Office
Like what you see?
Book a meeting with our experts and let's find out how we can help you.
You may also like
MyT identity and marketing campaign
Sesame Access brand identity
Serious website