Serious website
This project has been assigned the following categories: Websites,
Client overview
Serious are producers of outstanding live cultural experiences, including festivals, concerts, tours, creative engagement projects and talent development schemes.

Visit site
Project overview
We have worked closely with Serious for a number of years helping them develop and strengthen their online presence – designing, building and maintaining various website including EFG London Jazz Festival. Our goal was to build a modern website that could be easily managed by their in-house MarComm team.

Testimonials
I've worked with Simon and the team at Scaramanga since 2012, across two companies, four websites, and three complete redesigns.

I find the Scaramanga team to be friendly, knowledgeable, and always have a 'can do' attitude – always able to find a solution, whether it's scaling up to cope with phenomenal traffic-spikes through to customising the website back-end to make it more user-friendly for our Comms team.

Piers Mason Associate Director, Serious
In 2016, we launched a new website for Serious as part of a larger project which involved migrating a number of their websites from ExpressionEngine to Craft CMS as well as relocating their websites to a new faster web server. This version of the website focused on simplifying the website's structure, making it easier for the user to locate content quickly (a failing of their old website), however, that wasn't the only improvement we made.
We also designed the website to be responsive so it works on all devices, made better use of images to create a visually rich experience, improved the performance of the website for better SEO, and made the client's life easier by building the website so it is a doddle to maintain.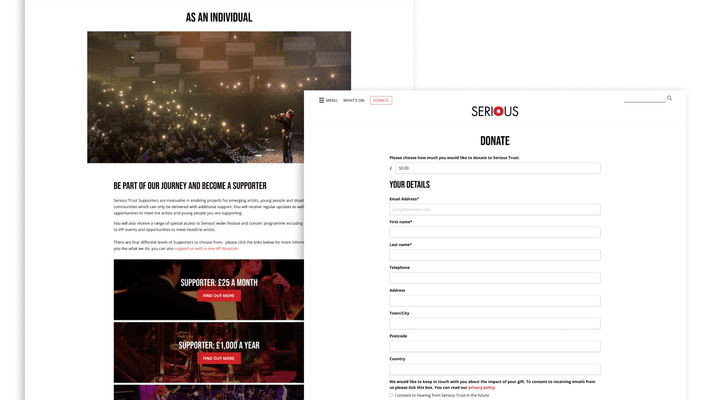 Donations portal
To support Serious' Trust activities, we developed an online donations portal in 2019 that allowed users to donate via an integrated Stripe payment solution – making it easier for users to donate and, of course, increase the number of donations.
The solution was a little more complex than a just adding a single form. The user can choose from pre-defined donation amounts or simply donate anything they like.
Fancy making a donation
The release of a new website in 2020

2020 is the year we would like to forget.
It is fair to say that everyone suffered the effects of lockdown, but none more so than businesses that involved people gathering in close proximity. With no prospect for live performances, the Serious team were in a quandary. Like many, the solution was to live stream events so we were asked to develop a new website for Serious and EFG London Jazz Festival in record time to ensure there was a festival.
You can read more about what we achieved by reading the EFG London Jazz Festival website case study.

Serious website displayed on mobile, tablet and a desktop computer
Like what you see?
Book a meeting with our experts and let's find out how we can help you.
You may also like
YourDay at Alton Towers
Southwark Music website
BAFTA - The Virtual Piccadilly Experience