MSE Group website
This project has been assigned the following categories: Websites,
Client overview
MSE Group provide high-end simulation solutions for healthcare education through simulation and fast, accurate diagnostic solutions. From their base in Vienna, Austria they supply their products and solutions across Europe.

Visit site
Project overview
Our first project for MSE Group was to provide a holding site that had to be delivered yesterday. The word site was deliberate, as it was far more than a holding page. Thankfully, we produced this mini site on time and, as a result, we were subsequently commissioned to design and build their new website.
After careful planning, design and an efficient build, we delivered the new MSE Group website to exacting high standards (both ours and the client's) — providing a website that showcases the many great simulation products MSE Group can supply to education institutes within the healthcare sector.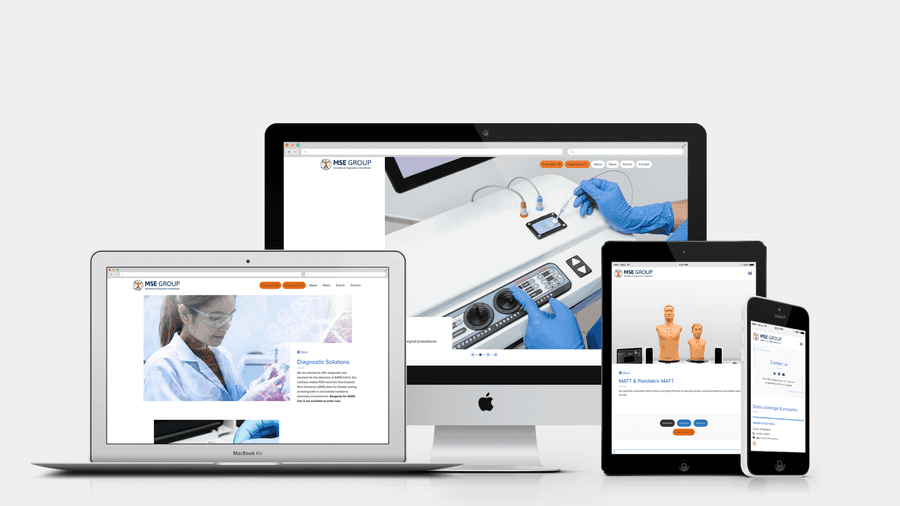 This website is an important cornerstone to MSE Group's business activity. Operating throughout Europe and beyond, the website acts as an vital information hub for potential customers conducting research about their highly technical simulation and diagnostic products. We therefore had to find a balance between the aesthetic and the detailed technical information — avoiding information overload.
Our goal for the website was to create a visually engaging experience for the user, whilst ensuring the website conforms to current accessibility guidelines. Easy navigation, a high degree of legibility, bespoke design and plenty of rich information make this website a pleasure to use — both from the users' perspective and MSE Group's in house team managing the content.
The flexibility provided by the Content Management System used to build the MSE Group website means we can continue adding new features to the website. We are currently working with the MSE Group team to release a version of the website in German, with other language variations to follow.
MSE Group's sales representatives now have a website that they can proudly share with their potential customers.
MSE website quick walk-through
Testimonials
Thank you for all your support and work on the website. I will certainly recommend Scaramanga.

Helen Crofts-Bolster Marketing Director (former), MSE Medical UK Ltd
You and your team have always been very welcoming, kind, and personally engaged and I very much appreciate your attitude the passion you put in maintaining the connection, and doing the work to the best of your effort and professionalism.

Velina Veleva MSE Medical UK Ltd
Like what you see?
Book a meeting with our experts and let's find out how we can help you.
You may also like
Sesame Access website
Southwark Music website
London Flower School website