Installation and Refurbishment Services marketing
This project has been assigned the following categories: Marketing campaigns,
Client overview
IRS is a specialist office interiors and relocation company who provide individual solutions for office moves or refurbishment.
Visit site
Project overview
When IRS (Installation and Refurbishment Solutions) came to us for a marketing strategy in 2016, they had been steadily losing market share and visibility over a number of years.
They wanted to put a stop to that and build the business back up, not just to where it had been, but far beyond.
We worked with owners Bob and Rebecca to understand the detail of their business, their market sector and the type of businesses they wanted to reach. Becoming the leading provider of office design, fit-out and refurbishment services within Croydon was very important, as well as building brand awareness and reputation across London.
We developed their marketing strategy and started the implementation. Key areas we worked on were content, especially case studies to showcase their work, social media, plus events for networking and profile raising.
We developed a new brand and website in 2016 to position them where they needed to be to achieve their goals and have since refined the brand and built a new, accessible website.
Marketing strategy results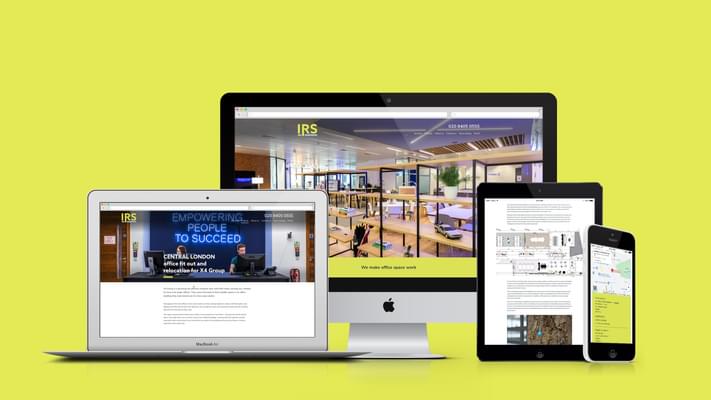 By following the marketing strategy – and networking really diligently – IRS has grown significantly over the last few years and won many prestigious contracts.
Their brand awareness is now high and they have developed a strong network of introducers. They are known by all in Croydon and widely in London and are briefed on increasingly large projects.
The team has grown significantly and a couple of years ago they bought new offices – a bare shell – and applied their skills to creating a showroom of the range of contemporary styles they can offer clients.
Check out the IRS showroom
Further projects for IRS
In 2018, we refined and tweaked the brand, developed formal brand guidelines and designed brochures, case study templates and an exhibition stand.
In late 2020, we launched a completely new accessible website, which showcases their stunning work and brilliant project photography perfectly.
Like what you see?
Book a meeting with our experts and let's find out how we can help you.
You may also like
Lamonde Automation brand identity
MyT identity and marketing campaign
High Court Enforcement Group: working across four brands