High Court Enforcement Group brand identity
This project has been assigned the following categories: Brand development,
Client overview
High Court Enforcement Group (HCE Group) is the largest independent and privately owned enforcement company in England and Wales and has been a client of Scaramanga's for a number of years.
Project overview
High Court Enforcement Group's existing identity was very blue and typically corporate and although Scaramanga had developed a fair amount of marketing collateral for them, we had been somewhat constrained by the fact that there is no clear visual identity for the business. Their literature was very generic and you could have easily swapped their logo with another company and not noticed.
As a result, we recommended looking at the visual identity, as well as their brand values and identified their desired business objectives.
We worked with High Court Enforcement Group to develop their brand values and marketing strategy, which we have been implementing with impressive results.

Testimonials
We were impressed by The Sheriffs Office's marketing, so when we bought the company we retained Scaramanga and appointed them to also market all the companies in HCE Group.

Claire and her team have an in-depth understanding of the enforcement industry, adding enormous value to the service they provide. We know they have our best interests at heart and trust them to deliver.


Bryan Lewis-Jones Group Director, HCE Group & The Sheriffs Office
The (family of) logos
Initially, the client brief was to create a strong visual identity that would work with their existing logo, create strong brand recognition and raise the profile of the brand, however, as the project developed it was clear that the tired logo required a rethink. It was dated and did not possess many qualities that reflected the organisation's personality.
In addition, HCE Group is the parent company for Excel Civil Enforcement and National Eviction team and, as the project progressed, it became clear a new suite of logos was needed for all three companies.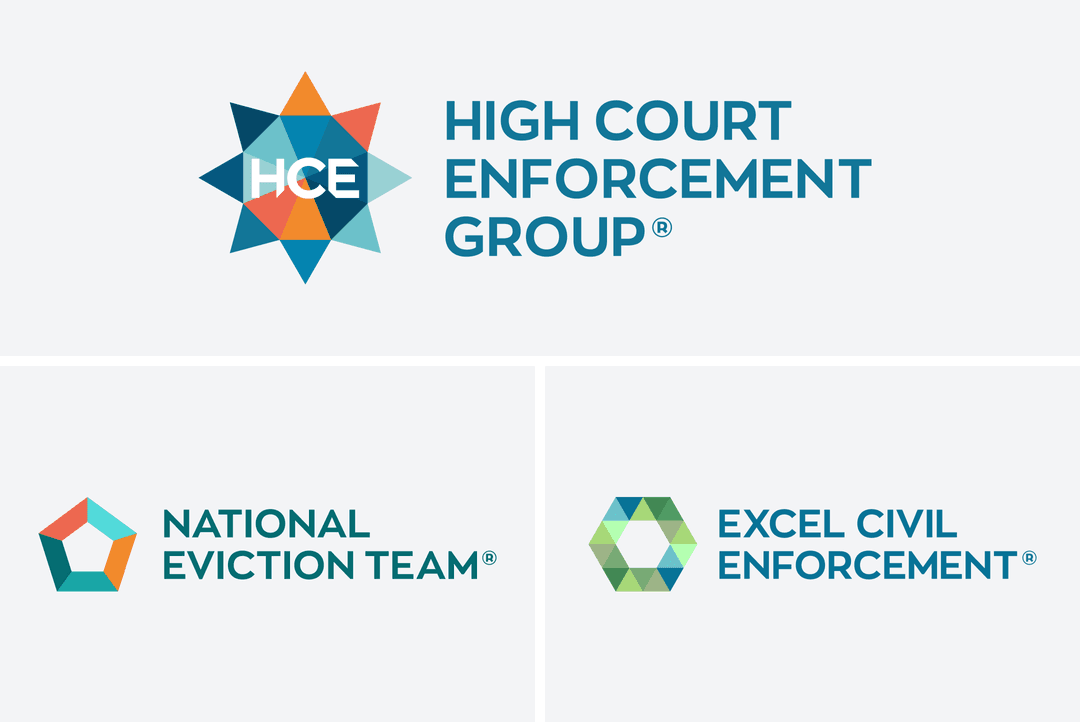 The underlying concept for the identity was the idea of conveying strength and robustness, whilst avoiding all the natural visual clichés that proliferate the enforcement sector.

As leaders in their sector it was important that the brand had gravitas and made everyone pay attention.
We used geometric shapes to convey the idea of strength — a star for HCE Group, a pentagon for Excel Civil Enforcement and a hexagon for National Eviction Team.
We also had to tackle the difficulties of designing a logo with a very long company name in the High Court Enforcement Group. When written on a single line, it create a very long form that does not scale down well. At smaller sizes as it looses its legibility. We stacked the typographic component of the logo to create a more square form and, for balance, applied the same treatment to all three logos.

A visual hook
Inspired by the work of the artist Bridget Riley who used colour and shapes to portray energy and movement, we conceived a series of illustrations to bring life to the brand identity.
Undoubtedly, these glorious patterns demand attention and work seamlessly with the geometric shapes used on the logo. Begone monotone blue and in with vibrant colours that are underpinned by the original blue of the original identity.
Animation of pages from the brand guidelines
With the logo, typeface, colour and brand theme sorted we catalogued this in a set of comprehensive brand guidelines and got to work applying this to various items of marketing collateral.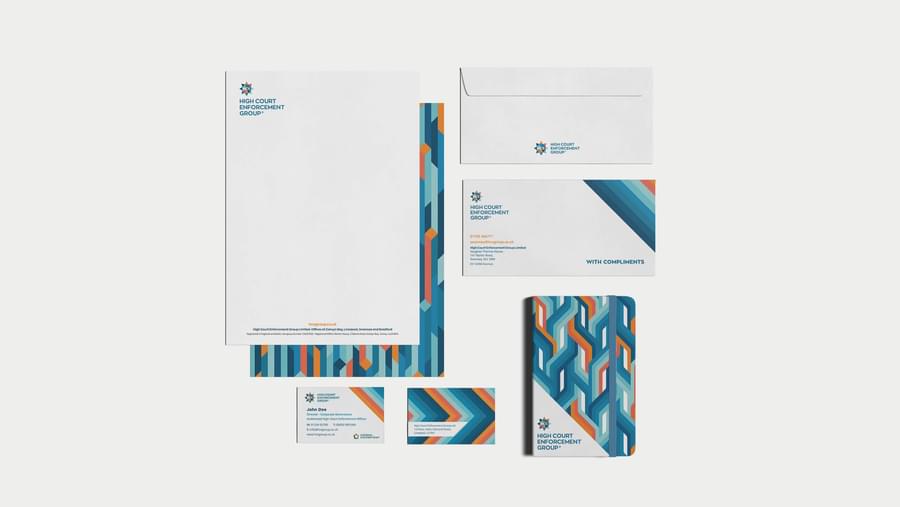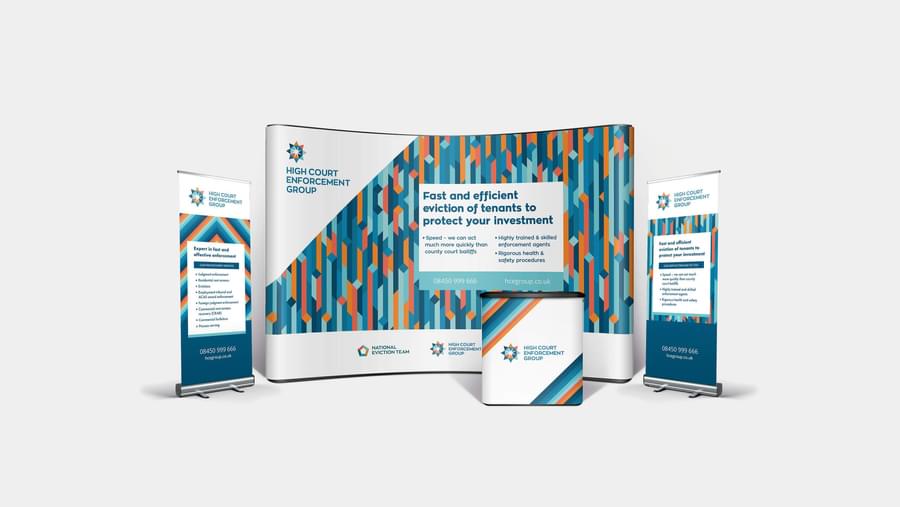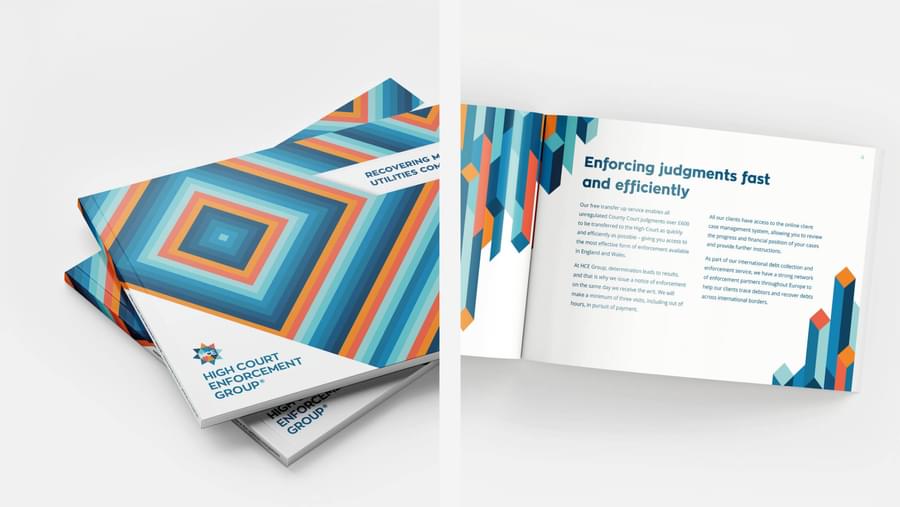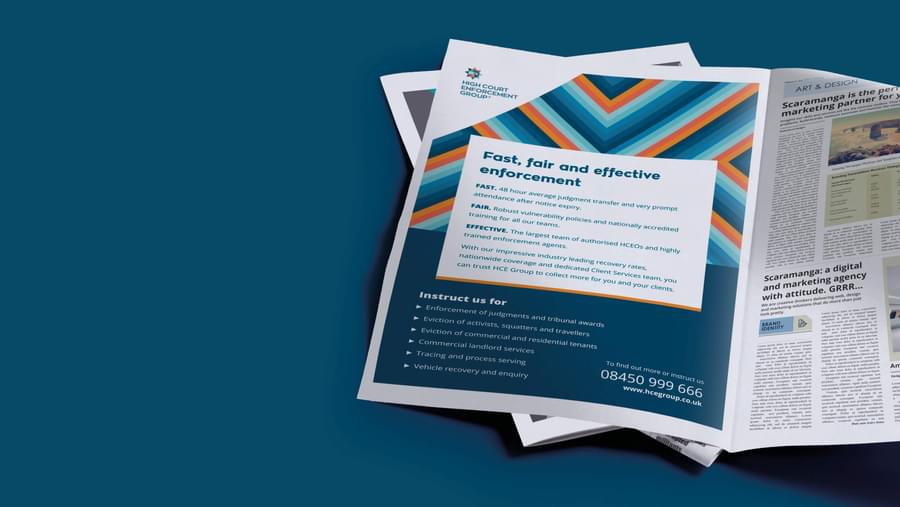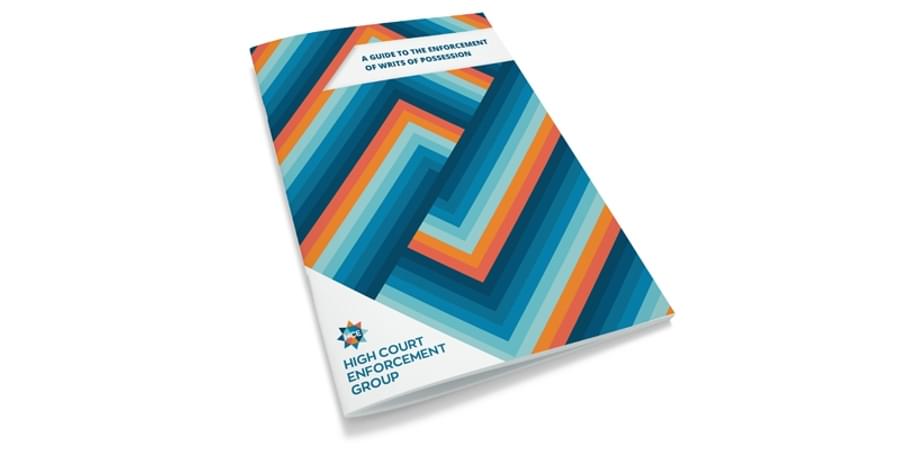 Other projects
The new brand identity for High Court Enforcement was just one part of a larger project to update the identity and website for all of the HCE Group companies — plus a few other projects.

Like what you see?
Book a meeting with our experts and let's find out how we can help you.
You may also like
Telsolutions brand identity
The Sheriffs Office website and brand
MyT identity and marketing campaign