High Court Enforcement Group: working across four brands
This project has been assigned the following categories: Marketing campaigns, / Social media, / Websites, / Brand development,
Client overview
High Court Enforcement Group and The Sheriffs Officers are High Court enforcement companies, recovering unpaid judgments for creditors and property for landlords.
Excel Civil Enforcement recovers local authority debt and the National Eviction Team undertakes protester and activist removals, often from national infrastructure sites.
Visit site
Project overview
Scaramanga started working for The Sheriffs Office in 2009, helping them grow into the top 4 companies within the High Court enforcement sector.
In 2016, as a result of their high market share and brand profile, The Sheriffs Office was acquired by High Court Enforcement Group, who also wanted access to Scaramanga's marketing expertise.
In addition to working for the two High Court brands, we were also appointed to undertake the marketing for their two other brands, Excel Civil Enforcement and the National Eviction Team.
Challenges
Debt is a very sensitive subject – it requires a considered approach and giving thought to the current economic and political climate.
Because the industry is governed by quite extensive legislation, we needed to develop and maintain an In-depth knowledge – Claire Scaramanga actually holds industry qualifications in the Taking Control of Goods regulations.
We are reaching out to diverse target markets, so the messaging needs to be on point for each.
With protester evictions, these are often very high profile and we need to manage media enquiries, as well as media attacks by activists.
Finally, our clients' clients often don't want anyone to know they are using enforcement services, so the scope for shouting about specific successes is limited.
How we help HCE Group grow
Scaramanga works on a retainer basis with all four brands, providing a complete marketing service function for the companies. We also undertake work on a fixed price project basis for other aspects.
Retainer
Our retainer covers a wide range of marketing, including
Campaign ideas, planning, budgeting and execution

Content research, creation and marketing


Organic and paid social media

Print and digital advertising
Projects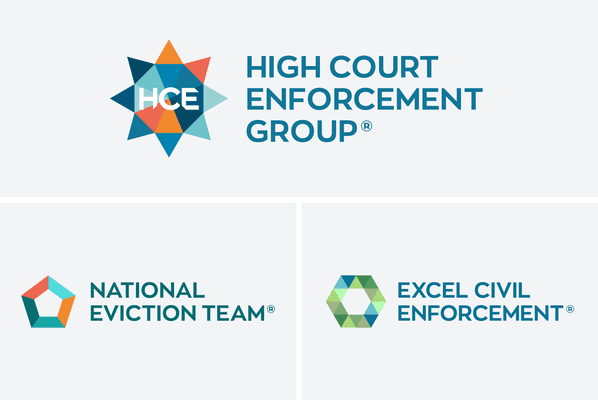 Our project work includes:
Full rebrand in 2018
Websites design, build and SEO
Online instruction forms
Mobile app design
API integrations
Graphic, digital and UX design
A number of successes
We've had a few success...
Before acquisition, The Sheriffs Office reached the top 4 in the industry
We successfully pitched TV show to the BBC, which ran for eight seasons and reached 32 million people and won a Broadcast TV award – The Sheriffs Are Coming
HCE Group and The Sheriffs Officer are now the largest independent High Court enforcement company in the country
The National Eviction Team has won several very large and high profile national infrastructure clients
Excel Civil Enforcement has raised its profile significantly and has won multiple new tenders in target areas of the county, including a London Borough.
Testimonials
We were impressed by The Sheriffs Office's marketing, so when we bought the company we retained Scaramanga and appointed them to also market all the companies in HCE Group.

Claire and her team have an in-depth understanding of the enforcement industry, adding enormous value to the service they provide. We know they have our best interests at heart and trust them to deliver.

Bryan Lewis-Jones Group DIrector, High Court Enforcement Group
I would have no hesitation in recommending Claire and her team to anyone looking for an experienced, professional and GDPR conscious marketing company. Scaramanga Marketing took the time to learn and understand our industry and its many complexities!

They have been instrumental in raising awareness of our brand awareness, which has grown beyond measure and we are now seen as the company to beat.

Laura Anne Smith Director of Client Relationships, Excel Civil Enforcement
I have worked with Scaramanga Agency for over the last eight years, they are a great team to work with and deliver an exceptional level of service and ideas.

If you are looking for a marketing team then I would recommend Scaramanga.

Alan J Smith Director of Corporate Governance, High Court Enforcement Group
I employed the services of Claire and Scaramanga Agency in 2009 to build The Sheriffs Office brand and reach to aid our growth. Claire has become an integral part of the team delivering expert advice and assistance on an almost daily basis.


There is no doubt that without Claire, The Sheriffs Office would not be the market leader it is today. Claire was quick to learn the ins and outs of the enforcement industry which made working together very easy, I happily recommend Scaramanga to all.


David Carter (former) Managing Director, The Sheriffs Office
Projects
Check out some of the projects we have delivered for the four different brands within High Court Enforcement Group.
Like what you see?
Book a meeting with our experts and let's find out how we can help you.
You may also like
The Sheriffs Office website and brand
National Eviction Team brand and marketing
FOCAL International brand refresh