Esquire Cover Club website
This project has been assigned the following categories: Websites,
Client overview
The Esquire Cover Club is a new collaborative project between Serious, EFG Private Bank, and Stefano Lugano.
This virtual exhibition was launched as part of the 2020 EFG London Jazz Festival and allows visitors to tour the exhibition and view the beautiful art and design that led UK and US audiences into the developing jazz scene of the 50s and 60s.

Visit site
Project overview
We were tasked to create an engaging and visually rich website to showcase Stefano Lugano's extensive collection in the form of a virtual exhibition.
Interestingly, this exhibition format website was designed and built to be reusable by Serious for future exhibitions.
Demo of the Esquire Cover Club home page
Our goal was to create a virtual exhibition that was both engaging and the embodiment of the time and music.
We wanted to grab the visitors attention, so on the home page they are presented with an atmospheric image of an entrance to a fictitious jazz club down a darkened alleyway, which splits like curtains to reveal the website's content. This immediate sense of drama draws visitor into the exhibitions space.
Exhibition rooms
The visitor can then enter one of the many exhibition rooms where they can listen to and watch interviews with key figures in the history of Esquire Records, hear the music with specially curated Spotify playlists, learn more about the collector and even share their own memories.
More importantly, the visitor can view the contrasting album artwork for each cover from the Esquire Records (UK) and Prestige Records (US) pressings — either on the artist pages or in the dedicated gallery room.
Esquire album cover comparison
The cover artists include renowned jazz journalist and photographer Val Wilmer, production manager Ron Atkins, and Ralph Steadman — an important illustrator whose work includes the famous cover for Fear and Loathing in Las Vegas by Hunter S Thompson and Pink Floyd's, The Wall.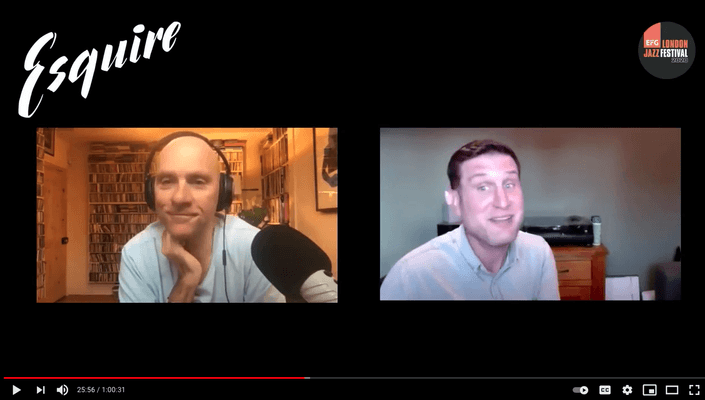 Live stream event from the festival
Simon Leadbetter, Scaramanga's Creative & Technical Director, makes a nervous appearance in the live stream talk between Jez Nelson and Stefano Lugano.
At 24 minutes, Simon is suddenly thrust into the talk as Stefano's connection failed. His five minutes of fame.
View video
Like what you see?
Book a meeting with our experts and let's find out how we can help you.
You may also like
High Court Enforcement Group: working across four brands
Sesame Access website
Corn Exchange Newbury website