Men's finals day at Wimbledon
Written by Claire Scaramanga
I have been a huge tennis fan for as long as I can remember. As a child I would come home from school and fight with my brother (not always just verbally) to watch the tennis. This was in the days of one TV and just three channels.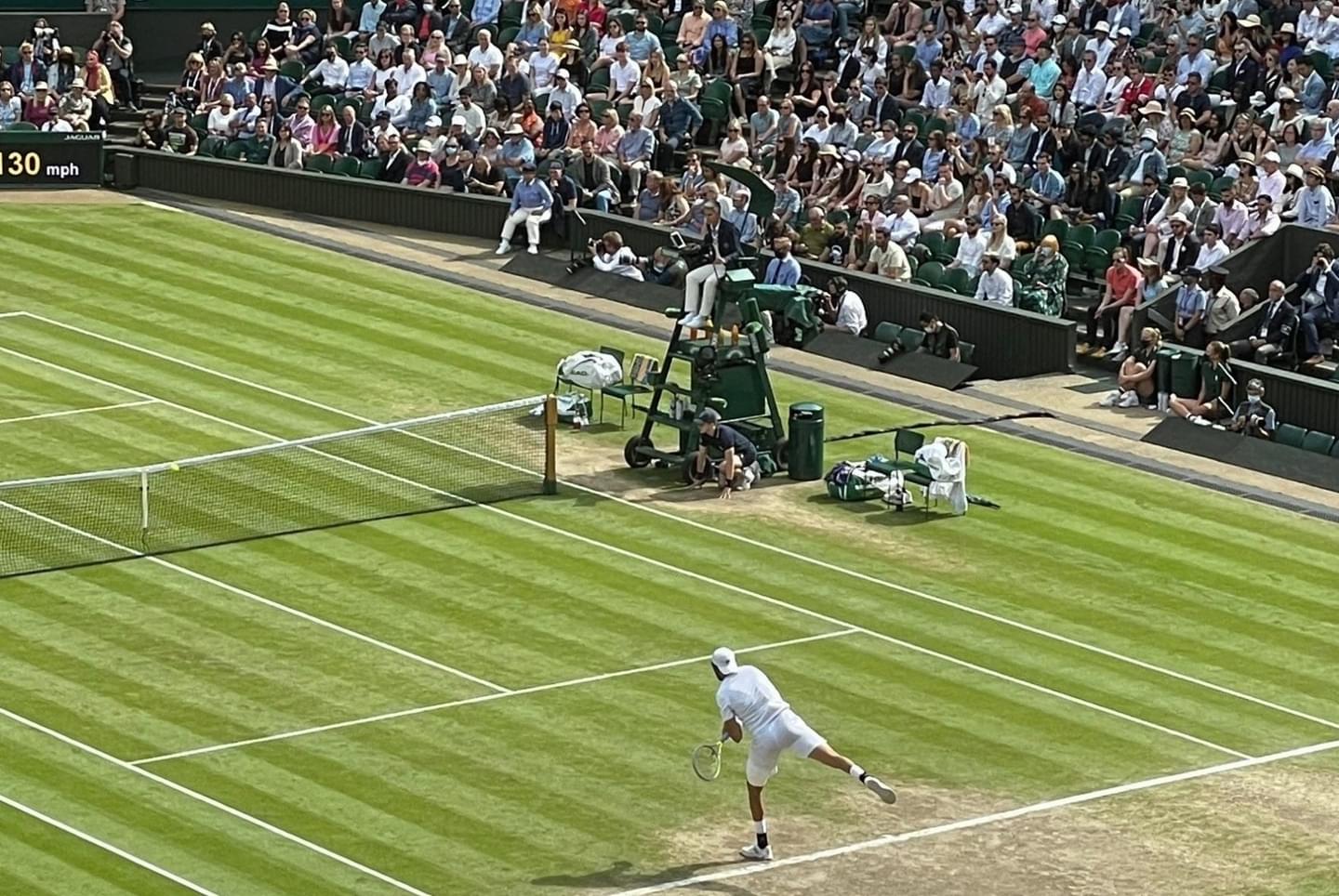 For 2021, Wimbledon was taking part in the Government scheme to test capacity live events and held an online ticket sale for the first time ever (the 2020 ballot winners will get their tickets in 2022).
I got the email, registered for the unique booking code and then sat, mouse poised, waiting for sales to go live. I went straight for the men's finals on Centre Court – one should always aim for an ace.
There were over 28,000 people ahead of me in the queue. I thought there was no chance. But after 20 minutes, I was at the net and allowed in to book a ticket!
So, off I went on Sunday 11th July, for an amazing day at the best sporting event in the world – from my perspective. The match was amazing and the atmosphere out of this world.
I was a little concerned whether Djokovic would walk all over Italian Matteo Berrettini, as it was his first ever grand slam final. But my fears were soon allayed when Matteo played brilliantly, with a rally to come back from 5:2 down to win the first set. He has a massive serve - 135 mph on several occasions - and I think he stands a great chance of winning his next final.
The crowd was so on his side – we Brits do love the underdog – and there was a lot of noise, with chanting, clapping, cheering and many standing ovations for both players!
No social distancing, no masks – it was almost as if the last 18 months had never happened. However, you did have to show proof of vaccination before being allowed in. It felt safe. I've had two lateral flow tests since, and both were negative.
It wasn't my first visit to Wimbledon – I got Number 1 Court tickets a few years ago and also to the Olympics on Number 1 – but it was my first time on Centre Court. If I am lucky enough to get the chance again, I will be there in a shot!
You may also like…
Ten top tips for writing winning award entries
Accessible design and UX
Loneliness and its impact on mental health