The power of online reviews (and chocolate)
Written by Claire Scaramanga
These days we all look at reviews before buying anything. Have bad reviews ever made you change your mind?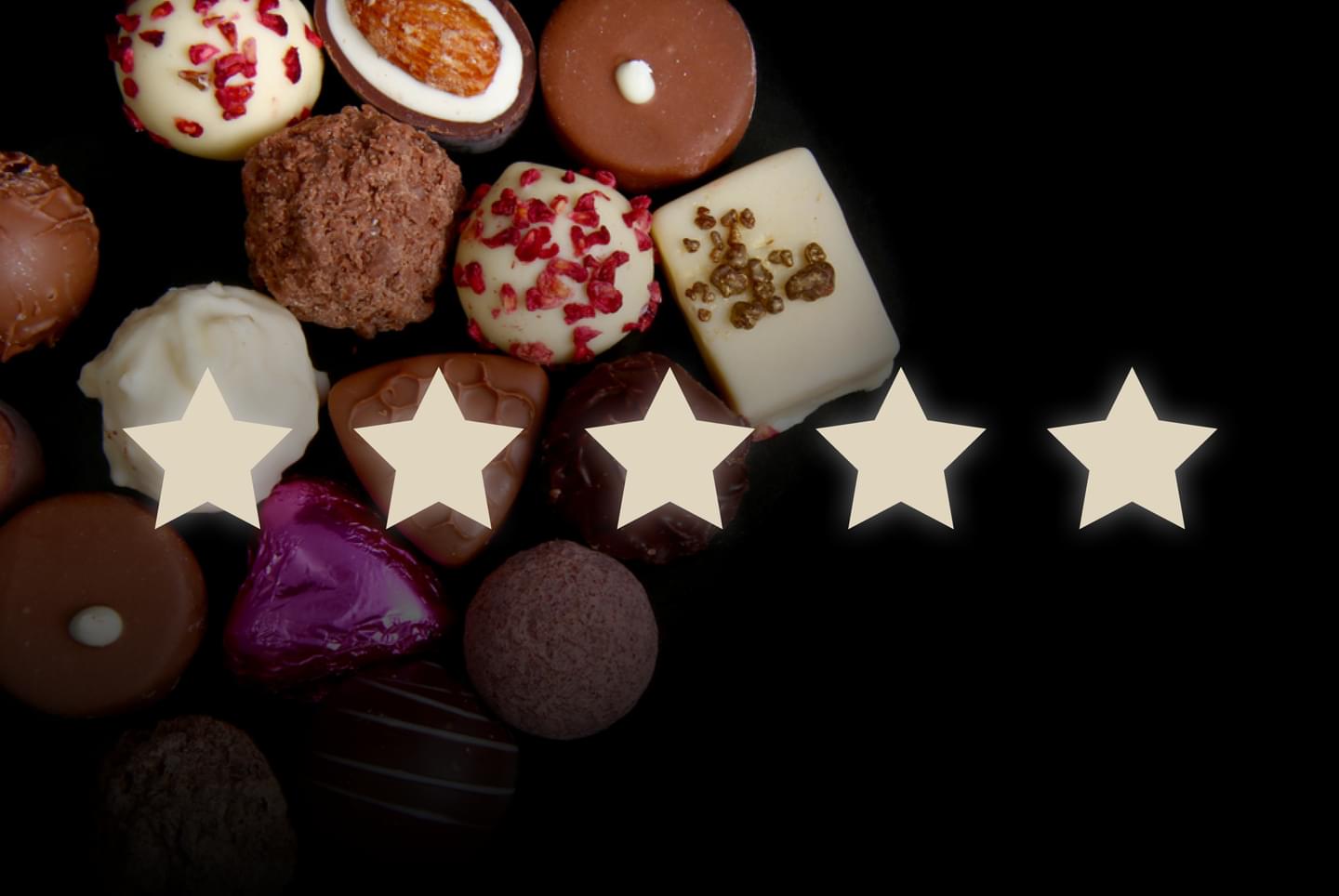 I chose a nice box of chocolates on Amazon for Easter yesterday, but the negative reviews about damaged packaging and chocolates influenced me to buy a different box with good reviews. You can't mess with chocolate!
Changes to buying behaviour
Peer-to-peer reviews have been around forever, but they have become far more important over recent years. In 2011, Google published their report "Zero Moment of Truth (ZMOT)" in which researchers observed user behaviour in regards to reading reviews before they get to the point of purchase.

Let us rewind before the internet. If you wanted a camera in the "old days" you went to the camera shop, viewed what they had on offer, spoke to the sales assistant and then decided which camera to buy.

The ZMOT shows that today's consumer has researched all the models online, read the reviews and pretty much made up their mind before they get into the shop or clicked the add to cart button on a website. The retail experience is now largely about reinforcing the decision that the consumer has already made.
The rise of reviews
This has largely been driven by the large number of online review sites, some sector-specialists such as Trip Advisor and Checkatrade, others more mainstream, like Trustpilot and Google Reviews.
Before we dive into how you can encourage and expand positive online reviews, let's first look at some statistics that highlight just important they are.
Statistics
This Hosting Tribunal article pulls together over 67 online review statistics taken from several different sources. Here are my top ten from that list:
Online reviews impact 67.7% of consumers' purchase decisions (source: Moz)
72% of customers won't take action before they read some reviews (source: My Testimonial Engine)
70% of consumers need to read at least four reviews before they can trust a business (source: Brightlocal)
91% of millennials trust online reviews as much as friends and family (Source: Brightlocal)
More than half of consumers won't use a business if it has less than a 4* rating. (source: Brightlocal)
83% of customers don't trust advertising. (source: Statuslabs)
A single business review can lift its conversions by 10%. 100 reviews can raise conversion rates by as much as 37%, 200 reviews by 44% (source: RevLocal)
82% of consumers visit review sites because they want to purchase a service or a product, 89% buy within a week and 29% in 24 hours (source: RevLocal)

Consumer reviews on products are trusted almost 12 times more than the manufacturers' descriptions (source: Martech Zone)
Reviews have a 10.3% influence on the global Google search results rankings (source: Shopify)
How can you get more reviews?
The simplest way is to just ask your customers and clients to post a review. According to Brightlocal, 86% of consumers would consider writing a review for a business.
Several of our clients have Trustpilot accounts. Trustpilot states that the average conversion rate for review invitations is 10%, however, we have found that our clients are getting between 10% and 15%.
You can link some review sites to your CRM which can automatically send out invitations. You can also include an invitation with project reports or correspondence right after it has been completed, the time the client levels of delight should be highest. You can also include automated requests via your ecommerce site or after a support ticket has been closed.
It's fairly obvious (but sometimes it's good to state the obvious) – if you can, focus on inviting the customers that you know are delighted with their experience with you.

Reply to reviews
If someone has had a poor product or service from you, they might leave a review anyway. What is important with a bad review is that you reply to it promptly and positively, i.e. no excuses and no blaming the customer. The way you respond says a great deal about your business and will influence other readers.
Keep going
This is not a one-off exercise; older reviews will carry less credibility. A regular flow of reviews will show your performance over time and that customers are continuing to buy your products or services. All this will support your credibility and high performance.
Review platforms
We're not going to cover them all, but we will cover Google, Trustpilot, social media and Glassdoor.

Google
First off, Google. According to Review Trackers, Google accounts for 57.5% of all reviews worldwide and 63% of consumers visit Google to check for reviews of a business.
Your first step to get active on Google is to claim your Google My Business page. Then, you can start inviting your customers to leave reviews. You can set up a quick link to send to your customers which takes them directly to your Google My Business review area. Send me an email if you would like more information on how to set this up.
Not only will Google reviews help prospective customers, they will also assist your search engine ranking. According to Moz, reviews are the third most influential ranking factor for Google's local search.
According to Shopify, reviews generally have a 10.3% influence on the global Google search results rankings.
Trustpilot
About a year ago, we discovered through our online monitoring of one client that several unhappy customers had posted a one-star review of the client. We contacted Trustpilot, set up their account (Trustpilot does charge an annual subscription) and did two things. Firstly, we invited all their customers who had had a positive outcome from using the client. This started pushing the star rating up.
Secondly, we checked the negative reviews and found that none complied with Trustpilot's criteria for a valid review, so we reported them and all the negative reviews were removed within a few weeks.
Their star rating is now 4.6, which is "excellent". You might want to push for a five-star rating, but beware – it doesn't look genuine.
Social media reviews
Social media sites allow reviews, although some allow you to switch them off. Reviews are all or nothing – you cannot select which to show.
They do have an impact; according to the review site Yotpo, reviews shared on Twitter increase ecommerce sales by 6.46% and those on Facebook and LinkedIn increase sales by around 2.5% each. And RevLocal states that Facebook affects more than 50% of consumers' purchase decisions.
As well as the review areas themselves, social media is a great place to showcase reviews you have received elsewhere. You can make them look good with graphics, rather than just sharing the text. Make sure the person has put their review in the public domain before you share it though – if the feedback was an email testimonial, ask their permission before sharing.
Also, don't forget to ask for personal reviews on your LinkedIn profile to boost your own reputation. If you are the director of your business, it will also lend credibility to the business.

Glassdoor
Your company reviews are not just important to prospective customers, but also to prospective employees. This will cover the type of reviews discussed already in this article, but also reviews by your employees, past and present.
Glassdoor is one such company and offers an insight into your workplace. Leaving a bad review is a must-do for disgruntled employees after they leave! To counter this, get some positive reviews on there by inviting current employees who are satisfied to share their experience of your business. They can do so anonymously.
Promoting your reviews
Once you have a bank of reviews, you can share these on social media, as well as your website. You might want to add a widget to your site to show your ratings and/or reviews from sites such as Trustpilot, Checkatrade or Reevoo. You can add them to email footers and email marketing campaigns as well.
Share the love!
You may also like…
Why content marketing is important
Being a bit zen
Foragers for sure